Media Release - LAMBERT PARK
NSW Liberals and Nationals announce $2.2 million upgrade to Lambert Park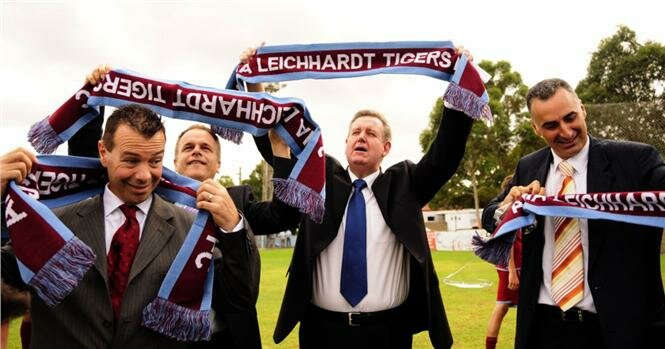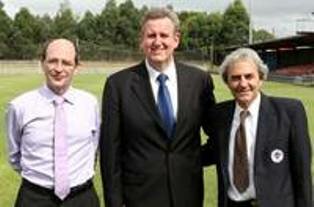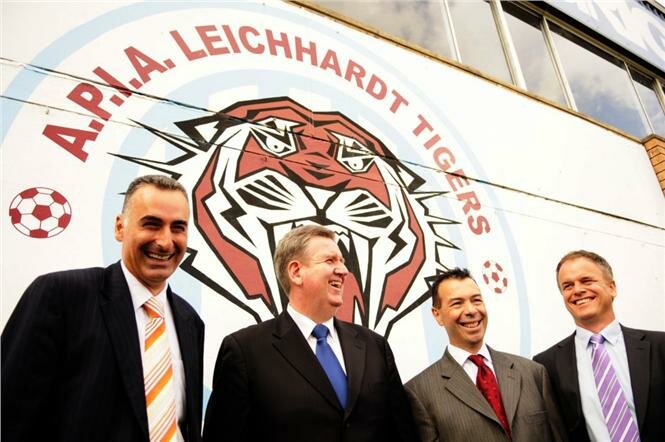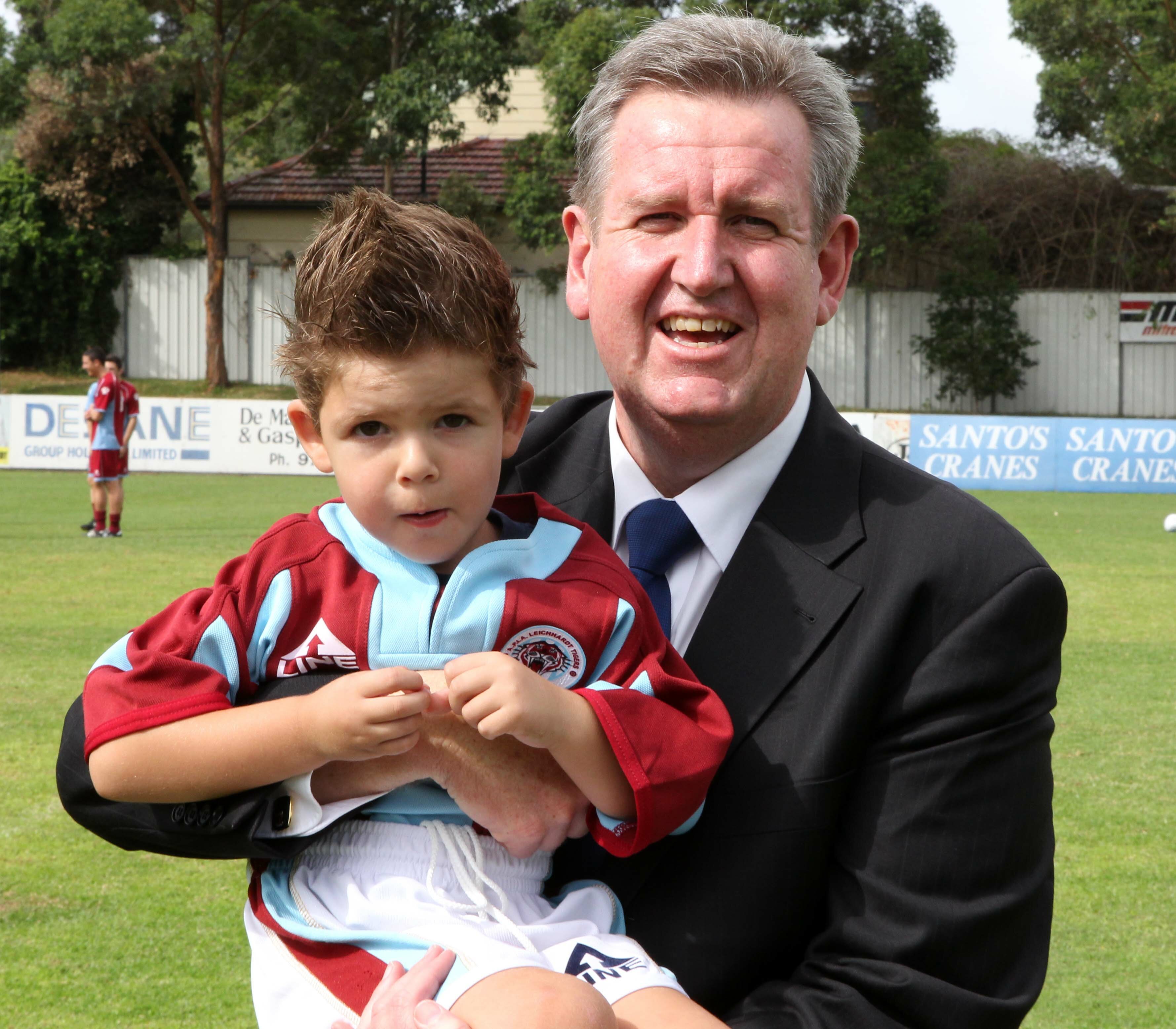 A NSW Liberals and Nationals Government will commit $2.2 million towards the
upgrade of Lambert Park in Leichhardt, NSW Opposition Leader Barry O'Farrell
announced on Tuesday.

Mr O'Farrell believes the $2.2 million to Lambert Park will go towards securing its
long term future as the home of Football in the Inner West and its role in developing
the next generation of Socceroos.

The historic venue has been the home ground of NSW Premier League side APIA
Leichhardt Tigers Football Club since 1954.

Mr O'Farrell made the announcement with APIA Leichhardt Tigers' long serving
President Tony Raciti and Liberal candidates Charles Casuscelli (Strathfield), John
Sidoti (Drummoyne) and James Falk (Balmain).

This is great news for the Inner West and great news for football fans," Mr O'Farrell
said. "APIA Leichhardt Tigers FC is one of Australian football's iconic clubs and has played
an immense role in the local community for many decades," he said.
"There's no questioning the pedigree of APIA Leichhardt Tigers FC with it having
produced more Socceroos' players and captains than any other club.

"However, the Tigers' home ground Lambert Park has sadly fallen into a state of
disrepair and the club does not have sufficient funds to cover the costs of a complete
upgrade. "I am pleased to announce that a NSW Liberals & Nationals Government will commit
$2.2 million to the upgrade of Lambert Park securing the venue for future generations
and establishing it as the home of football in the Inner West."
Funding would enable Lambert Park to be upgraded with:


A new synthetic playing field surface, lighting and fixed seating
Installation of new palisade fence to playing field perimeter
New amenities, change rooms and storage
APIA Leichhardt Tigers President Tony Raciti was delighted with the commitment the
NSW Liberals & Nationals Government was set to show via the upgrade of Lambert
Park. "The proposed funding is vital for the club which has produced more Socceroos than
any other, it is incredibly important that we get this across the line as we've got 107
teams and also allows our feeder club Balmain SC to come back home which is a
huge bonus.

"It allows us to hire fewer grounds and consolidate a lot of the teams at Lambert Park
as in the past we spent far too much money in hiring other sporting facilities.
"Synthetic turf will allow us to play football 365 days of the year and be able to assist
with the large amount of developing youngsters within the Inner West area as well as
welcoming the Canterbury and District Soccer Football Association's representative
U11 and U12 squads at no cost – Football is now a 12 months a year sport,"
concluded Raciti to Football NSW - who has been involved with the sport for 37 years
consecutively as junior and senior President of the APIA Leichhardt Tigers.

Fellow APIA Leichhardt Tigers senior players Nick Rizzo and Mark Byrnes who were
on hand to have heard this historic moment were also equally as delighted as their
President. "The Inner West area is a huge area with football being the number one sport played
by youngsters right through to seniors."It's terrific to see that this is in the pipeline with a historic
ground such as Lambert Park which has given so much to the community but was in bad need of
an upgrade,"stated Rizzo to Football NSW.

"I also concur with Nick, the upgrade of the facilities was much needed here at
Lambert Park. To have proper first class facilities and a synthetic pitch will benefit the
club, the area and the sport in general," Byrnes told Football NSW.

Football NSW General Manager Ian Holmes was equally as pleased to see the
upgrade of such an iconic park that has played a pivotal role in the development of
football throughout its rich history. "Naturally we are pleased to see a substantial financial
commitment given to the upgrading of Lambert Park.

"Lambert Park is not just an iconic venue it is the spiritual home of football in the
Inner West. "Not only will the teams of APIA Leichhardt Tigers benefit from this investment in a
community facility, the clubs within the Canterbury District Soccer Football
Association will be given the opportunity to access the upgraded facilities as well.
"Football NSW wishes to acknowledge the work undertaken by Tony Raciti and his
committee in obtaining this commitment from the NSW Opposition," Holmes stated to
Football NSW.

Mr Casuscelli said: "This is a great win for our community and provides a shot in the
arm for local sport." "This upgrade will enable Lambert Park and APIA Leichhardt Tigers to
continue to foster grassroots football and produce more Socceroos in the future," Mr Sidoti said.
Mr Falk said: "Preserving our sporting heritage is important and building for the future
will give aspiring sportsmen and women in our community a boost."

The APIA Leichhardt Tigers have used Lambert Park as their home ground since
1954 and is associated with over a dozen lower grade clubs in the Inner West and
Canterbury area. Lambert Park currently hosts football matches in the NSW Premier League
for Under 13 Boys through to Men's teams, as well as Under 12 Girls through to Women's
teams in the Super League.