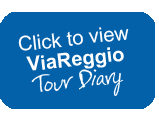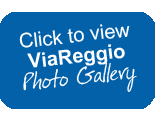 VIAREGGIO 2012
Article 1 - by John Economos 
APIA'S YOUTH squad flew out of Sydney last Saturday afternoon to challenge for the prestigious 2012 Viareggio Cup , for 10th consecutive year.
Following a 32 hours of gruelling travelling that embraced flights, a whole day tour of Rome -the  City rated as the 'Gateway To Europe'-, plus seeing the Serie a clash A.S.Roma vs Bologna at the Olympico Stadio, the squad finally arrived late Sunday evening at Viareggio, wedged on the shores of the North-Western coast of Italy in the Tuscany region.
After an 8.30am Monday (today),breakfast, Youth coach Rod Williams organised the squad to play a full match amongst themselves to shake off jet-lag and get the circulation boiling.
The 64th Viareggio Cup tournament, established and competed for annually since 1949 which saw giants A.C.Milan first crowned as Cup Champions, has notoriously been dominated by the crack Italian teams.
This year, no less than 29 Italian teams will compete in the 48 Club Cup tournament.
Of the 19 'foreign' clubs including Apia Leichhardt Tigers, this year sees no less than three Brasilian teams competing , plus two from Paraguay and one from Uruguay to complete the South American participating contingent.
As was the case last year, only one English club has submitted an entry this year, that being from Newcastle United.
So tough is this Tournament that in the 63 years history of this prestigious Youth Club Tournament, twice only has an English club ever made it through to the Final, that being Ipswich Town in 1981 and 1982, failing on both occasion to ultimate Cup Champions A.S.Roma and Fiorentina respectively.
Apia's Head coach, Rod Williams, after this mornings hit-out, seemed satisfied with the players' performance, stating:
''Yes I have to say that I was pleased with the effort of all the players, considering having come out from the gruelling travelling and touring of Rome.
''All the boys did very well, and I was particularly impressed by our right back Brad Bartels and the intelligent tough-tackling Victorian centre-back, Tou-Yeng Yang.
''The lads wasted no opportunities in the whole 70 minute intensive session, despite having to rapidly adjust to a strange pitch and different climatic conditions.''
Despite being in the middle of Winter, the climate today in Viareggio was ironically very mild with a bright, strong sunshine splashing the soil all day.
Tomorrow (Tuesday), the Apia squad will travel a short distance to play their first warm-up match at the township of Massa against the local team called Massesse at 3pm.
On Wednesday, Apia's Chairman Tony Raciti has organised a second warm-up game against a local side from the City of Cesena, a four hour bus trip North-East from Viareggio.
This match is of particular interest to the Apia officials and players as it will be played on a modern synthetic pitch, (Generation 3).
This playing surface is similar to the quality material that will be used at Lambert Park on the installation of their spanking new, modern playing surface with work due to commence in July of this year.
Coach Williams late last night installed right-back Bradley Douglas Bartels as the captain of Apia's Viareggio  touring squad with goalkeeper Stefan Joseph Giglio as the Vice captain.
Apia has been classified in the Cup under Group 4 Section A, bracketted against Citta Di Marino, Juventus and Danish champions Nordsjaelland.
The Group matches start from next Monday, Wednesday and Friday with all starts listed at 3pm.
Apia's match against Juventus to be played on Wednesday week will be telecast Live by Rai t.v. Sport and Australian fans can view it via the Internet by logging in on www.raisport.rai.it.
Article 2 - by John Economos


APIA'S Cup Preparation Frozen Out.
=======================
 
APIA LEICHHARDT TIGERS' Youth squad Viareggio Cup preparations have been almost totally wrecked by the severe freezing conditions that have struck the entire northern region of Italy in the last 72 hours, and worse still, these atrocious conditions are expected to extend till the week-end.
The 64th Viareggio Cup Tournament kicks off next Monday.
The massive northern European freeze that has drifted into Italy from Siberia has already shut-down no less than five major Serie a fixtures.
The Parma vs Juventus, Siena vs Catania, Novara vs Chievo, Atalanta vs Genoa plus Bologna vs Fiorentina in the past 72 hours were all cancelled.
However the clash between Inter Milan and Palermo played last tuesday night and ended with a 4-4 score line, resembled a game of ice Hockey not soccer.
Even worse, already Sunday's night match A.C. Milan vs Napoli has been scrapped.   
The cities of Bologna and Livorno were both flattened by no less than a metre of snow.
Major railway arteries, schools and highways were forced to be shut down.
Not since 1956 has Italy been so severely struck by such ferocious freezing conditions. 
Apia Leichhardt Tigers' President, Tony Raciti was livid last night.
Raciti had already blue-printed four vitally important warm-up matches to be played this week before next week's Viareggio Cup Tournament.
As if these severe climatic conditions were not bad enough, Rod Williams the Apia Youth coach flew out of Milan this morning, having to rush back to Kiama, NSW, where his mother is in a critical condition with her health.
Last Mr Raciti stated: "This is Apia's tenth consecutive crusade into Italy to participate in the prestigious Viareggio Cup Tournament.
"I have never experienced anything like this.
"It has paralysed all of our preparational work. We have been training every day, but game times are vital for this tough, serious cup tournament.
"For today (Thursday), I had a Plan B up my sleeve.
"That was to book and Indoor Calcio stadium in case of such an emergency surfacing."
Raciti had also booked two warm-up games in Livorno and Cesena, both have now been frozen out.
The match against Cesena was especially vital for the Australian travelling Youth squad and the Apia officials.
This game was to be played on a Generation 3 synthetic surface.
This synthetic pitch is the only such pitch in the World with a natural soil infil that also embraces a rubber shock-pad beneath the playing surface.
Further more it's the only such surface that requires an irrigation system for the essential weekly watering of the surface.
This super modern technology product, solely manufactured and marketed by the Italian Corporation 'Limonta', is the identical product that will be installed from next  July at Apia's home ground, Lambert Park.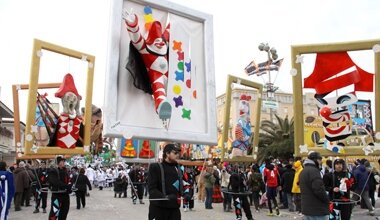 Article 3 - by John Economos

APIA's YOUTH DOWNED BY TWO PENALTIES.
============================
(La Pruniccia), ITALY.
 
APIA LEICHHARDT TIGERS' touring Youth squad in Italy, in preparation for next week's 64th prestigious Viareggio Cup tournament, were defeated 3-1 this afternoon (Friday) by 5th division side ROSIGNANO in the mountainous township of La Pruniccia, some 27 kilometres North East from their home base in Viareggio, in Italy.
This mountainous region is famous World-wide for the quarrying of high class Italian marble.
In absolute freezing conditions that rapidly plunged to a zero level, caretaker-coach Tony Raciti elected to play two completely different teams in each half, to facilitate urgently needed match practice for his touring squad that has been severely starved of warm-up games due to Northern Italy's ferocious, freezing conditions that has paralysed most of northern Italy.
For most of the Apia players, it was their first hit-out on a synthetic "Generation 2" pitch.
Despite Apia's much younger-aged, (and obviously far less experienced) players against the semi professional Rosignano, the Sydney boys gallantly put up a defiant battled.
In fact it took two penalties, (one in each half) to lift the Italians to victory.
More surprisingly, it was Apia that hit the lead as early as in the 15th minute.
Outstanding slim centre-back, Paul Galimi engineered Apia's goal.
Slicing through from the back, Galimi's well-measured pass found the towering Apia sole striker Blake Armstrong.
Armstrong who just turned 20 last week, showed excellent composure to
blast from 14 metres out from the left, to nail the target in the bottom far right corner.
Five minutes later, seriously threatened to 'balance the books' when their central striker flashed into Apia's box on a one-on-one situation with custodian Stefan Giglio.
But in a flash and from nowhere, Apia's sturdy centre-back Bradley Bartels raced across in cover to make a fabulous, delicate tackle to clip the ball from the Italian striker's control.
Seven minutes from the break, Rosignano was awarded a genuine penalty to score and draw level.
Coach Raciti for the second half fielded a fresh X1, also lacking match practice, which included no less than three players all under the age of 17.
Five minutes after the break Rosignano pulled ahead with a well-taken goal when their striker rounded Apia's giant 17 year old custodian, Jarrod Unicomb who injured his hip as he dived across in vain to save the danger.
In the 61st minute Rosignano was awarded a very soft penalty from which they scored to seal the winning score line at 3-1.
Totally frozen, the Apia squad riggidly, (but quickly) marched back to their warm, heated team bus to rest at their Albergo Losanna team Hotel in Viareggio.
On the team bus Raciti evaluated Apia's performance as:
"Look, both of Apia's X1 that played in each half, did very well.
"They displayed exceptional shape and structure with almost total team unity.
"They all followed our instructions to perfection against the much more experienced semi-pros.
"In the second half the team included two players who are a mere 15 years of age plus another two who are just 17.
"We have never, ever experienced such severe cold conditions that left me and my staff very proud of the lads," concluded Raciti.
Best performers in the first half were centre-back Paul Galimi, right midfielder Frank Primerano plus the courageous sole striker and goalscorer, Blake Armstrong.
In the second session, the stand-outs were central midfielder John Kanayama with central defender Adrian Vlastelica who turns just 17 next week.
Article 4- by John Economos

Apia's Youth Squad Stunned By Spectacular Viareggio Carnevale.
=========================================
(From Viareggio, ITALY.)
 
APIA LEICHHARDT TIGERS last Sunday afternoon attended the ''Viareggio Carnevale'', one of the World's most spectacular, vibrant, colourful, highly energised carnivals, annually staged on the waterfront Promenade of the City Viareggio.
This magnificent, unbelievable extravaganza, left almost the entire touring Apia Youth squad absolutely stunned, leaving the young Apia players with indelible memories for the rest of their lives.
Graded as the second biggest in the World after Brasil's Rio Carnevale,
The 'Viareggio Carnevale' is staged annually this time of year and spread over five consecutive Sundays.
The Carnevale draws crowds of over 100,000 on each of these Sunday, with tourists streaming in to Viareggio from all over Europe.
The wide beach-side waterfront Promenade has twin walkways, each some 16 metres wide with both walkways in opposite direction, split by a 5 metre garden island stretching some three kilometres down the beach-front.
Right on 2.30pm, the main entrance gates swing open allowing no less than 2  massive, mobilised monster floats to ever-so slowly creep onto the Promenade.
These giant, wide monstrous floats, most towering into the sky some 20 to 25 metres high, were dragged by mini-tractors into the crowd as the slowly meandered down the beach-side strip.
More than half of these 'monsters' are so gigantic in width as well as length, they creep slowly past beach-side Hotels and apartment buildings with barely centimetres to spare from making contact.
Each 'Float-monster' is stacked with singing, very bright coloured costumed Italian dancers, numbering anything from 50 to 120 performers. That's 50 to 120 entertainers on each float.
Each 'monster' has onboard its own very loud sound system, bellowing out a cacophonic, upbeat, rhythmic music to which the bouncing on-board performers synchronise to the beat.
Most of these very colourful monsters have a basic , satirical theme, be it comedy, satirical political attacks, or even based on ecclesiastical themes such as on the Pope and the Vatican.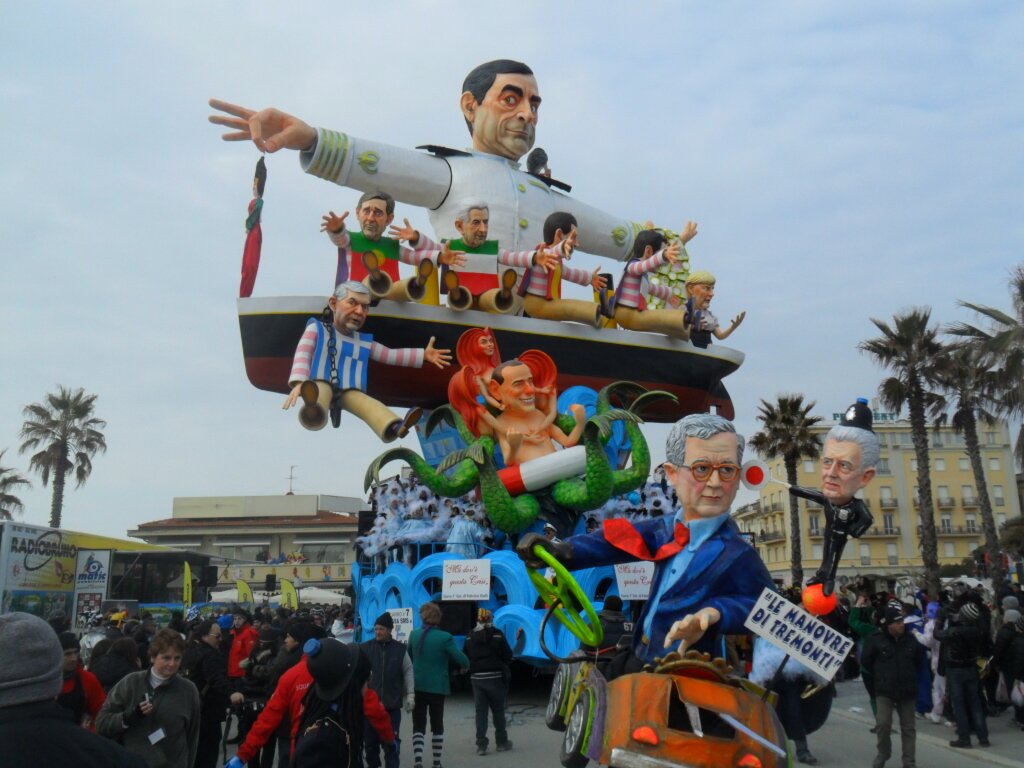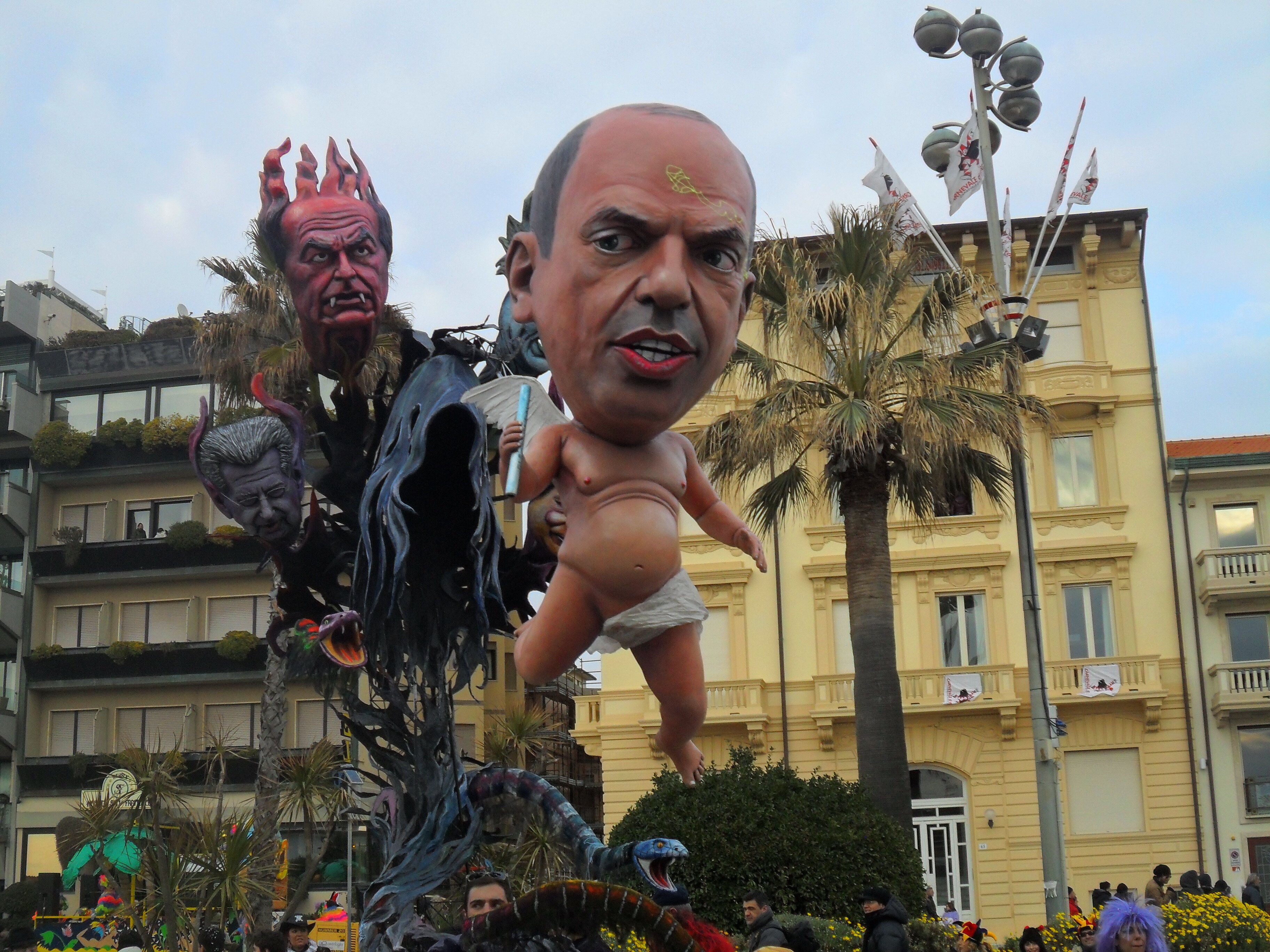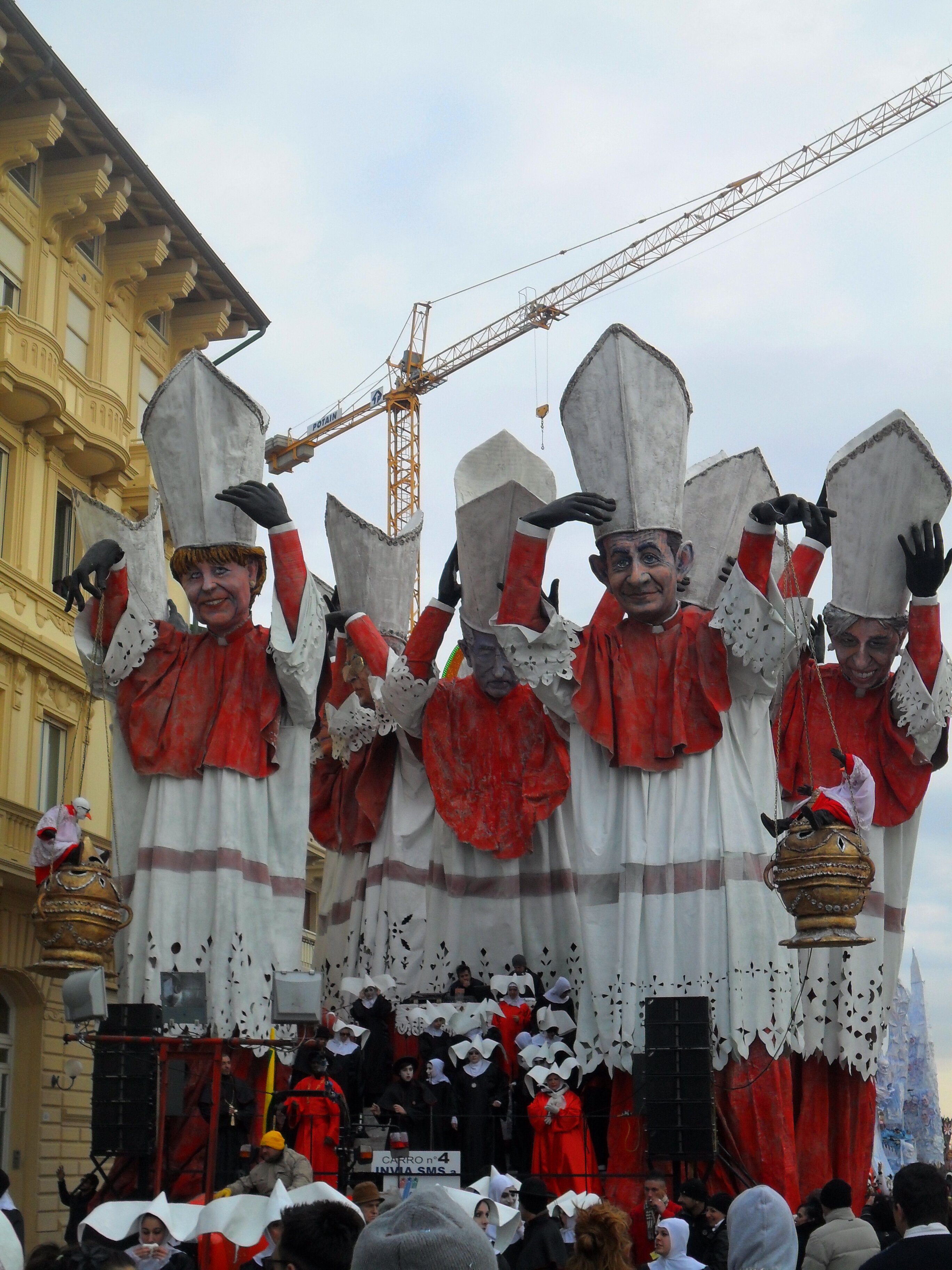 Apia's star central 18 year old defender, Paul Galimi, who was left totally overwhelmed by the Carnevale, stated to us:
"It was just amazing and so colourful and full of energy that injected the whole Community with delirious excitement, provoking them with buzzing adrenalin into dancing to the vast Rock, Disco music.
"Stand out floats included the satire on Sylvio Berlusconi, and there were numerous on him, plus vivid images projecting the Italian culture.
"Regarding Apia's tour of Italy, it's been professional and a real eye-opener for all our players.
"The tour presents many opportunities to learn so much and we must grab them.The scenery and lifestyle has been a massive experience," concluded Galimi.
Meanwhile Apia's star towering central striker, Blake Armstrong, quietly reflected:
"The Carnevale was so authentic and a huge eye-opener for our squad.
"One of the stand-out floats was the one with a massive Wolf's head reaching sky-high, plus the huge number of dancers onboard.
"Every float had its own loud, very clear music that wound up the entire crowd.
"These floats generated so much crowd spirit it was just incredible.
"And as far as the Apia tour of Italy, it's been tremendous and much more than I could have ever expected, and that applies to all the games, pitches and various styles we've come up against," ended Armstrong.
After witnessing this mega-extravaganza, the players filed back into their hotel to rest prior to their early dinner followed by a tactical team meeting for tomorrow's (Monday), double matches.
Apia will have a friendly hit-out in this morning against the Brasilian Club, Gremio at 10am.
On Monday afternoon Apia's first Viareggio Cup Tournament clash is against the Italian Serie D side, Citta Di Marino.
Article 5- by John Economos
Brasilians Give Apia Youngsters A Most Valuable Lesson.
(From Torre Del Lago, Italy)
CRACK BRASLIAN side, Gremio last Monday morning in a friendly hit-out, despite handing out an 8-0 spanking, simultaneously extended an extremely valuable lesson to Apia Leichhardt Tigers' very young players on how the World's most popular game should be played.
In the grandstand closely scouting the talent on display were a group of seven Player agents.
Later the same evening, the Apia camp was informed that one of the Gremio hulky strikers was snapped up by a Serie D club who paid $320,000 for the South American striker.
Gremio's mobility, plus snapping passing, sharp mental awareness, plus their running off the ball, was a sheer pleasure to witness.
Not only a pleasure to watch but a pleasure to witness what the entire Gremio squad, did immediately after fulltime.
The whole South American squad, (Coaching staff included), walked across to Apia's squad and coaching staff to shake their hand and respectfully thank Apia for the training match.
Within 10 minutes the Brasilians almost scored from a fast counter-attack, but denied by Apia's goalie .
Ten minutes later the crack South Americans looked certain to open the score line, but were brilliantly denied by Apia's towering 17 year old custodian, Jarrod Eli Unicomb, just in front of his near left upright.
The technically superior Brasilians were dazzlingly brilliant with short, snappy passing dragging Apia defenders out of shape with ease.
Having said all this, one had to be well aware that the Apia touring starting XI included no less than two 15 year olds, four 16 year olds plus two 17 year old players. 
In the 23rd minute Gremio again raided into Apia's box into a one on one situation with the 'keeper.
Despite young Jarrod's excellent parry, the Brasilian striker followed up to slam the rebound into the target and draw first blood.
In the 27th minute, again Apia's 'keeper made another outstanding block following a rocketing 15 metre drive fired in by a Gremio striker.
In the 29th minute attacking central midfielder, Hudson Fanini was forced to leave the field with an injury to his adductor strain to be replaced by Tyrone Gatt.
Seven minutes from the break, the South Americans were rewarded for their almost complete dominance and doubled the score line when their mobile left midfielder screamed down the left before blasting a rising, rocketing drive, that crashed just inside the right far post.
Just two minutes after the break Gremio trebled the score line with a quick ball cracked over the top of Apia's back-four for the Gremio striker to race behind, collect and slam into the target.
Apia's back-four of Brandon Kuzmanovski, Adrian Vlastelica, Frank Proietto and Alexander Gwozdecky found their task totally beyond them, exposed to the magical wizardry of the Brasilians.
Goal No 4 came in the 57th minute when a Gremio midfielder snapped a fast flat through ball that split Apia's defence, allowing a hulky Brasilian striker to flash through, latch onto the ball and first time drive it into the net.
Barely a minute later another Brasilian midfielder and on the run, exploded a 30 metre rising rocket that crashed onto Apia's horizontal.
Apia's young midfield quintet of Anthony Dahdah, Patrick Barba, Hudson Fanini, John Kanayama and Max Irish found it impossible to contain the Brasilians' brilliance and senior experience despite their  courageous efforts in sustained chasing.
On the hour mark, Apia's goalie heroic Jarrod, again made a wonderful two gloved, mid-air save, that even drew admiration from the Gremio team.
A minute later Gatt was replaced by Chris Shaw and in the 65th Apia's centre-back Proietto advanced forward to let fly a 25 metre shot that screamed over the Gremio crossbar.
As had happened almost with monotonous regularity by the Brasilian midfield, another snappy, flat through ball in the 66th minute, spilt Apia's defence allowing a Gremio mobile striker to flash through. Calmly gaining possession he drove into the target goal No 5 that stuck into the bottom right corner.
In the 68th, 70th and 78th minutes, Gremio reeled off a staccato of treble goals to end the match.
Caretaker coach Tony Raciti stated:
"What a wonderful, invaluable lesson these Brasilians gave our youngsters.
"And a large number of our lads mentioned to me that it was by far the hardest match they had ever played in," concluded Raciti.
APIA LEICHHARDT TIGERS' team: Unicomb: Kuzmanovski, Vlastelica, Proietto, Gwozdecky: Dahdah, Barba, Fanini (Gatt 29th, Shaw 61st), Kanayama, Irish: Ward.      
Article 6- by John Economos
1st Viareggio Cup match report.
===================================

Apia Youth's Goaless Draw, Plus Denied Certain Penalty.
(From Lido Di Camaiore, ITALY).

APIA LEICHHARDT TIGERS in their very first official Viareggio Cup Tournament on Monday afternoon against Citta Di Marino, a team from outside of Rome, were repeatedly cheated by the three match officials to enable Marino to scramble to a 0-0 draw against the gallant Sydney side.
In the first session, not once, but twice the linesman flagged for off-side when an Apia attacker was clearly on side by a metre as he raced away into the clear bound for goal.
As if this was not bad enough, in the second session, the opposite linesman did exactly the same, but this time on no less than four occasions.
But there was more, much more, like two denied penalties to Apia,one in each half.
The first penalty denial was as early as in the 7th minute when Apia's powerful central striker, Blake Armstrong, was cut down in the Marino box.
With two minutes left on the clock, and with the duel still a nerve-wracking goaless, pacey and courageous attacking midfielder, Chris Denkov flew into the box to be clearly brought down with the referee totally unresponsive to the illegality.
As if these series of injustices were not enough, seconds before fulltime the Marino assistant coach, raced to the sideline and raised the board to signal an extra 6 minutes for 'injury-time'.
Three minutes from normal time the referee flashed within five seconds two consecutive red cards to the Apia bench, the first to coach Tony Raciti for beggingly screaming for the denied penalty on Denkov, and the second to substituted right midfielder Frank Primerano  for dissent.
The first session saw a powerful performance by Apia that culminated in two excellent goal chances, the first a glorious glancing header by towering striker Blake Armstrong that zeroed for to top left corner, plus a rocketting 20 metre drive fired from the left by Chris Denkov that shaved to top of the right post.
High work rates from central defender,Paul Galimi, Denkov and Armstrong gave the Marino side a torrid time.
In the 57th minute Raciti made his first change when he brought on Tyrone Gatt with fresh legs for Frank Primerano.
By now Marino gathered power and began to have Apia under some considerable pressure, but the Australian defence gallantly marshalled by twin centre-backs Galimi and Brad Bartels, stood defiantly to this Italian period of sustained pressure.
It took 72 minutes for Marino to finally launch their very first threat on the Apia frame, when a glancing header flashed perilously past Stefan Giglio's left upright.
Three minutes later it was Apia in fact that almost broke the deadlock when substitute Gatt smashed a square ball from the left to rocket inches past the left post.
Ten minutes from normal time, Raciti desparate for a match-winning goal brought on more fresh legs in Frank Proietto for Matthew Napoli.
The 85th minute Apia again almost had a goal when a wild poorly scrambled clearance in Marino's box the alert Dankov blasted well on target but the Italian tall, and hugely built goalkeeper, barely deflected the shot with his outstretched left shin.
At the end of six erroneously added minutes of injury time, a wild fracas erupted as Marino players stormed the Apia players and substitutes. 
In the dying minutes the second blatant penalty denial arrived when Denkov was slashed down in the Italian box.
APIA LEICHHARDT TIGERS' lineup: Giglio: Tou Ying Yang, Bartels, Galimi, Nasreddine: Primerano, Raciti, Denkov, Napoli, Salameh: Armstrong.
Yellow Cards: Bartel, Galimi.
Red Card: Primerano (off the bench).      
Article 7- by John Economos 
JUVENTUS ESCAPES SHOCK DEFEAT BY APIA LEICHHARDT TIGERS.
(Stadio Carlo Bresciani)
Viareggio, Italy.
ITALIAN GIANTS, JUVENTUS, laboriously struggled to a 1-0 win against a very stubborn and defiant Apia Leichhardt Tigers on Wednesday at the Stadio Carlo Bresciani in the second match of Group 4 in the 64th edition of the annual, prestigious, Viareggio Cup Tournament.
It took all the experience of the Juventus captain/striker, Alberto Libertazzi to score in the 83rd minute, the vital, face-saving goal to avoid global humiliation had his 'Black & White' side crashed to a scoreless draw, or worse even, a possible defeat, against the young Australians.  
With seven minutes left on the clock, Juventus won a corner on the right which was slung into the box, headed down for the Juventus skipper to score from very close range to get his team 'out of jail'.
Juventus had come perilously close to crashing to a shock defeat at the hands of the highly underrated Australian side from Sydney.
Just two minutes before Juventus scored the heart-breaking winning goal, Apia almost scored their unexpected winner, having kept the star-studded Juventus scoreless for 83 agonising minutes.
Tenacious midfielders, Matthew Napoli and Sammy Salameh, combined to feed lanky substitute striker Blake Armstrong on the left side.
Armstrong quickly cut the ball inside to Chris Denkov who raced into the box on a one-on-one with the Juventus giant 'keeper Constantin Branescu racing out of his six yard box to cruelly block the Apia player's shot at the target.
Apia's defensive tactics had Juventus paralysed for a large portion of the duel.
Marco Baroni, Juventus' coach, who played as a centre back for Napoli during the Maradona era, was totally frustrated as his side with monotonous regularity failed to break down Apia's tight defence.
Defenders Tou-Yeng Yang, Paul Galimi, Brad Bartels and Ali Nasreddine were unyieldingly defiant to the 'Black & White' enemy, especially the intelligent centre-back Galimi who has rapidly developed, and matured, into a star defender, closely followed by the physically strong, lanky fearless Bartels.
So dominant were the Apia defenders, a Serie D Italian coach sitting behind me, commented: "I wish I had Nos 12, 4 and 25"—i.e.Yang, Galimi and Bartels.
Ironically it was Apia that attacked first. Rangy left midfielder, Sammy Salameh, pushed forward firing well on target from wide on the left, only to see the Juventus towering custodian Branescu, save well.
In the 14th minute Juventus' Schiavone blasted a15 metre drive that screamed over Apia's crossbar, followed two minutes later by another shot by Juve's captain that shaved Apia's left post.
Apia, (as always), played a 4-2-3-1 system whilst the Italians kicked-off using a 4-3-1-2 formation.
Having kept the giant Juventus scoreless at halftime, the Australians slowly grew in stature.
On the hour mark, almost heart failure struck Apia when Juve's ace goal scorer and skipper Libbertazzi scored. But he was instantly flagged for off side.
Ten minutes later Juve again was denied a goal, this time by Apia's captain and goalkeeper, Stefan Giglio who froze the ball right on his goal-line.
For the last 15 minutes the 'Black & Whites' frustratingly launched a sustained bombardment of Apia's lines. But the 'Maroons' stood defiant, gallantly marshalled by twin-centre-backs Galimi and Bartels, plus a quick double-save in the 87th minute by goalie Giglio.
Apia's caretaker coach, Tony Raciti commented after this massive disappointment of narrowly achieving a historic mark in downing Juventus:
"We were seven minutes from making history. This team and the Club would have made headlines across the planet had we downed the great Juventus.
"Every year for the past 10, we have been gaining huge credibility, with our phenomenal, competitive, unyielding drive and defiance.
"I can remember that just six or seven years back, the constant 5,6 nil thrashings we had suffered. Now we have earned respect, and today we limited the mighty Juventus to a pathetic two shots on target.
"Worse still for Juve, they simply could not penetrate and create chances as they have done so with such great ease in years gone by.
"We as a Club, (and Australian Soccer in general), are now well-organised with great shape, structure, organisation, extremely fit and hearts as big as lions.
"The Australian sporting mentality is obviously inbred in our Youth throughout our nation. It's these qualities that now support our mind-boggling results to now be successful.
"Remember the Italian teams are losing 4 and 5 nil to their Italian stronger opponents. With all things being equal, an Australian team, currently and in the future, will never lose by such wide margins.
"We are lacking only one thing. That is our mindset regards to training. Our Youth players need to train at least four sessions per week, no more no less.
"It's only when this happens nationally, (in my humble opinion), then we will start to match the high European standards. But this must happen for 48 weeks of the year. It's as simple as this," concluded Raciti.
 Apia's last Group 4 match is on Friday against Danish champions Nordsjaelland who today smashed Citta Di Marino 5 nil.
This Danish team was swamped by Juventus last Monday 6-1.
APIA LEICHHARDT TIGERS' lineup: Giglio capt: Yang, Galimi, Bartels, Nasreddine: Raciti, Napoli: Proietto (Dahdah 56th), Denkov, Salameh: Gatt (Armstrong 50th, Ward 89th).
Formation: 4-2-3-1.
Juventus: 4-3-1-2.   
Paul Galimi - Apia's Star Central Defender and Man of the Match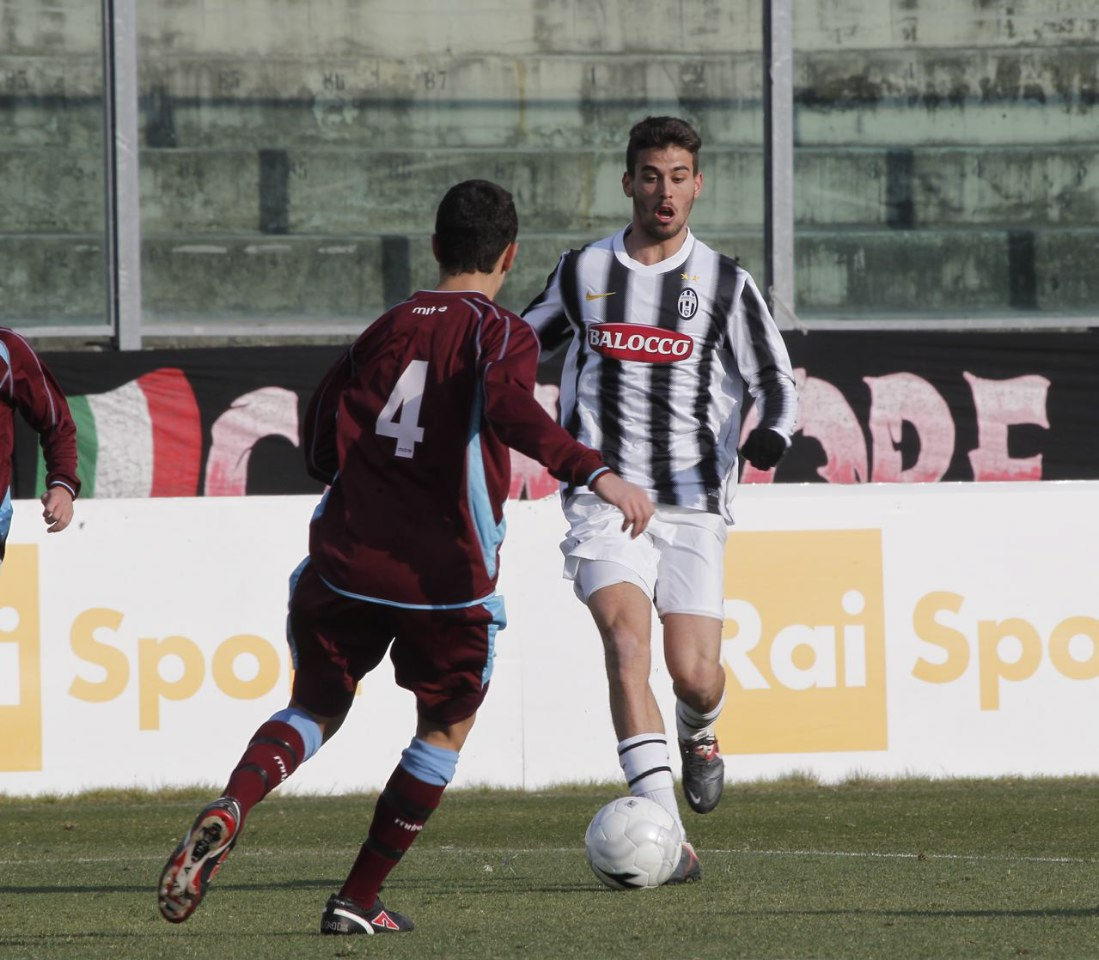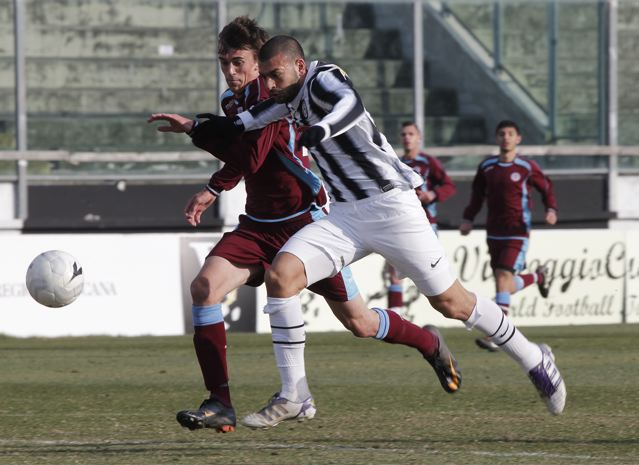 Brad Bartels -
Apia's Star Sturdy Defender 
Article 8- by John Economos 
APIA Knocked Out Of VIAREGGIO TOURNAMENT By The Danes.
(From San Giuliano Terme, 6klm from Pisa,Italy).
APIA LEICHHARDT TIGERS in freezing conditions, (2 degrees below zero), bowed out of the 2012 Viareggio Tournament, going down 5-0 to crack Denmark side, Nordsjaelland, who initially suffered a cruel, horrendous start to their Viareggio campaign. This Danish victory has lifted them into Round 2 of the Cup tournament.
Four minutes from the break, Apia suffered a vital loss. Apia's reliable central defender, Paul Galimi, was stretchered off with a severe 'cork' to his left thigh muscle following a heavy collision with a Danish player.
With Galimi off the pitch, much added leadership responsibilities fell on towering central defender, Brad Bartels, who later reflected:
" The Danish boys were excellent with their movements off the ball plus their sharp, precise passing.
"You could easily identify their fulltime professional status by their performance," ended Apia's steely defender and  'Man Of The Match.
The extremely likeable, well disciplined Danes, through severe, climatic conditions, last Sunday had their flight to Italy 'frozen out' in Zurich last Sunday afternoon, forcing them to stay overnight in Switzerland, and thus arrive for their first Cup match on Monday against Italian giants, Juventus, just 15 minutes before kick-off.
The tired Danes thus ultimately suffered a humiliating, morale-draining 6-1 loss to the 'Black & Whites'
The Danes' Tour Leader explained to this Journalist before Apia's match, that they had immediately contacted the Italian Tournament organisation of their plight on Sunday in Switzerland, and begged them, for a delayed kick-off, instead of the scheduled 5pm start.
Not only was the Danes' request flatly rejected, Juventus in fact had the kick-off brought forward to 3pm, resulting in the Danes' 6-1 thrashing inflicted on them by the 'Black & Whites'.
On the half hour mark, the Danes opened the score with an angled drive fired from the left to hit the bottom right hand corner.
Just seven minutes later they doubled the score line from a free kick that was allowed to bounce over the Apia defence and be driven into the target by their central striker.
A 3-0 score line arrived for the Scandinavians in 69th minute when the same striker, (Niclas Rohde), blasted at Apia's goals, initially blocked by captain and goalkeeper, Stefan Giglio but the rebound slammed back in for the third goal.
Nineteen minutes from the bell, goal No 4 was again scored by Rohde) to complete the scoring.
Apia's Care-taker coach, Tony Raciti, after the match, evaluated:
"Look, after having drawn and lost our first two Cup matches, and Juventus having already qualified, in reality this match against the Danes was a 'dead-rubber'.
"So the opportunity was there for us to give much valuable game-time experience to our younger squad players. This being the case we used many of the younger players to give them game time against International Youth opposition at the very highest level in the World.
"As well, a number of our 'senior players' gracefully insisted they would love their younger squad members to be given game-time in our final Group Cup match against the Danes. Senior team-management fully agreed with this sentiment''.
Raciti went on to add:  "In my humble opinion, and all things being equal, I felt we may have achieved some kind of result against these Danes.
"As we had nothing to lose, the Danes had everything to gain and play for, (the 'prize of a spot in Round 2'), plus 2nd highest spot in the 12 Groups, they played with a 'Do or Die' frame of mind," concluded Raciti.
Best performer for Apia in this, their final Cup match, was lanky centre-back and enforcer, who was saddled with the added responsibility of marshalling his younger team members.
APIA LEICHHARDT TIGERS' line-up: Giglio: Vlastelica, Bartels, Galimi (Napoli 41st), Nasreddine: Prioetto, Raciti (Irish 61st), Dahdah: Armstrong, Salameh: Ward (Barba 55th).
Apia's Formation: 4-2-3-1.
Nordsjaelland Formation: 4-3-3.
Goals Scored:
Nordsjaelland: 27th, 34th, 69th, 70th, 82nd.
Photo. Caption.
BRAD BARTELS: Apia's Match Of The Match.